뒤로가기
back
Spatial Audio, Immersive Audio, 3D Audio
2020.12.18 ・ by Henney Oh
Spatial Audio,
Apple has joined and it is on track to becoming mainstream.
The latest iOS update (October 2020) enabled users with iPhone and Airpods Pro to experience a new feature called Spatial Audio. Once you plug Airpods Pro in your ears and watch the video on your iPhone screen, you will have an impressive experience where you can't tell whether the sound is coming from the iPhone or Airpods. Like many of Apple's new releases, Spatial Audio is not something new. However, I would say it will be the first year of getting hyped because Apple has entered the market.
So, what is Spatial Audio?
Spatial Audio Coding (SAC)
Spatial Audio Object Coding (SAOC)
In 2007, the same experts of MPEG designated another standard, "Spatial Audio Object Coding" (SAOC, ISO/IEC 23003-2), for better expression of audio objects (in audio terms, object means each instrument of music performance for example) by extending the coding principle of Spatial Audio Coding (SAC). Both "Spatial Audio" standards haven't had a piece of luck in the market and might be hibernated on someone's hard drive.
Immersive Audio
Meanwhile, the industry experts came up with the new name, "Immersive Audio" instead of "Spatial Audio," which has faded in the market. The Immersive Audio seems to have been used to start by explaining a format with enhanced sound directions by adding ceiling speakers. And It is also being used as an audio term for VR, AR, and XR, representing Immersive Media that has rapidly emerged in the market.
(🤔Question2: Does Spatial Audio have the same meaning as Immersive Audio?)
3D (Three Dimensional) Audio
3D Audio means the three-dimensional spatial sound that adds space, clarity, and depth. One-dimension (1D) is a line, such as a stereo speaker placement, that separates left and right. Two-dimensions (2D) can be defined as a horizontal plane having an additional axis to define front and back and also can be represented through 5.1 channel speakers. And, the "Surround" has been used to indicate this 2D space. Adding height(up and down) on top of the 2D eventually leads to three-dimensions. The 5.1.2 channel and 7.1.4 channel, which you see as multichannel format these days, are three-dimensional examples. Someone can argue that a stereophonic setup can already represent 3D space. Yes, it is true but here we'd like to refer to a strict definition of the dimension with the physical speaker configurations.
MPEG-H 3D Audio (ISO/IEC 23008-3)
As time flew, the audio experts at MPEG came up with a new standard, MPEG-H 3D Audio (ISO/IEC 23008-3), in 2014. The standard contains and delivers the audio signal that spans 3D space with one of the channels, object, audio scene data (called Ambisonics), and their combinations in one. 3D is such a traditional term representing this standard's identity– nothing new and fresh. Because the term 3D audio is already being used in the 1960s… Just expected, it's being called "MPEG-H Audio" these days.
MPEG-H Audio was originally standardized to meet the audio requirements for the UHDTV applications. It's adopted as a next generation audio format for UHDTV in many countries including the US, EU, Japan, and Korea. It is also used as a delivery format for Immersive Audio in Tidal, Amazon Echo, and more. There's a Dolby AC4 (compression method) + ATMOS (signal format) combination as an alternative to the market. While the MPEG-H is an International Standard that encompasses format and compression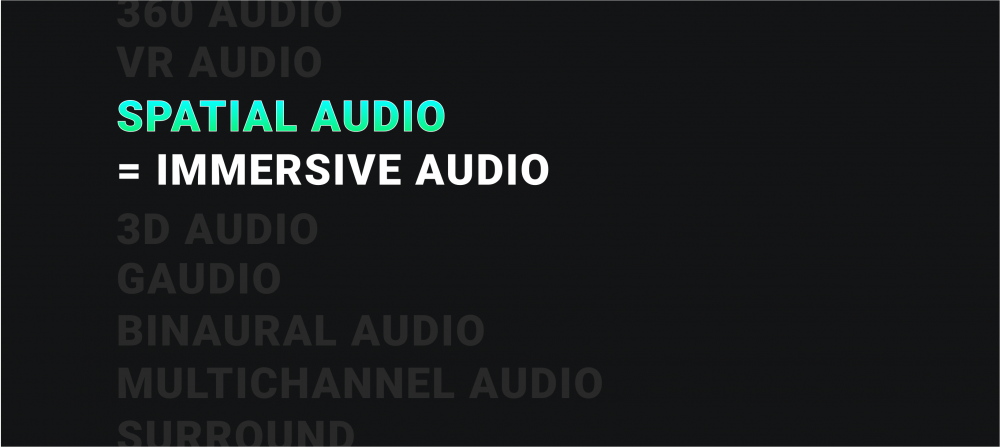 Let's clarify Spatial Audio, Immersive Audio, and 3D Audio.